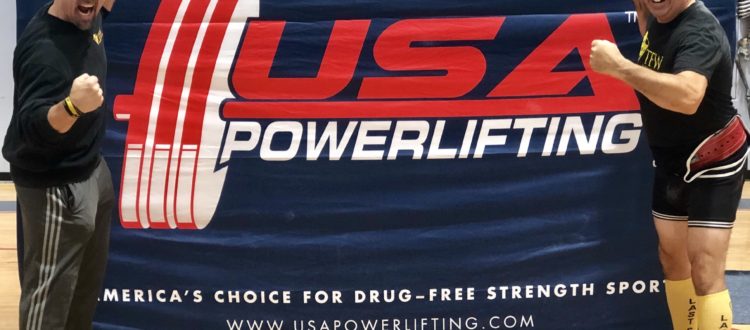 10 Big Coaching Lessons You Need To Learn
To be more successful, a coach has to make other people more successful.
Over the last 10 years, I have presented around the world about coaching.   This weekend taught me a number of great lessons about coaching and I only had to travel to Denver to do it (Denver, NC that is, which is only 15 minutes from my home!)
On Saturday morning, I got up early and headed to the USA Powerlifting Fall Festival.  I had the usual nerves that come along with a powerlifting meet.  Although I have competed in many meets, this one was unique.  At every other meet I have attended, I was always worried about myself.  This day, however, I was concerned about someone else.  This would be the first-ever meet I attended strictly to coach.  And I would be strictly coaching an athlete in his first-ever meet.
Meet Michael Soos.  At 53 years old, you might think it was a little late for him to enter his first powerlifting meet, but there is a story that led up to competing in Denver.  Although you could say his training for the meet started a few months ago, it actually started 3 years ago with a visit to his doctor.
What Was Your "Trigger Moment?"
For the last decade, Michael has been a "road warrior."  His job at Prudential requires a lot of time in the car.  And all those hours traveling in the car led to a lot of fast food.  That fast food led to excessive weight gain and a eventual trip to the doctor.  That trip to the doctor led to tests that diagnosed bad blood levels, high blood pressure and to Michael's dismay, diabetes.  
After the visit, Michael came home upset and was asked by his daughter to play soccer outside.  After only a few minutes, his heart was racing so fast, he went into his house, sat on his steps in a cold sweat and cried.  He knew he had to do something.  With three adopted children, he was not the role model he wanted to be as a parent.
Enter Training For Warriors.  Michael reached out to his friends for help.  His friend Dawn, suggested TFW, a fitness program she too had just begun and was seeing results.  Although his travel schedule was difficult, he made the time to begin.  He could barely make it through his first "workout."  After the first few weeks of soreness and frustration, he gave up.  His TFW coach actually went to his house, talked to him and got him back on in the gym!  Michael began again determined not to give up.  At that time, we became friends, and he hasn't looked back since.
In the three years since,  Michael has lost 74 pounds, added muscle and became such a standout in the entire TFW global network that he won the coveted Student of the Year award in 2017 voted on by all the TFW's around the world.  Even with his crazy schedule he even found time to coach other beginners in the program too!
Once you push out of your comfort zone, it's hard to stop.
Michael's weight loss was amazing.  He was leaner, healthier (blood report was perfect) and running circles around his kids, but he wanted a new challenge.  Michael heard about the powerlifting meet and wanted to see how he could do against people his own age and weight.   Because he never dreamed of lifting in a competition, he asked me for help.  Because I never dreamed he would be lifting in a competition, I said, "yes."
In the few months that followed, Michael trained hard, ate well and focused for the meet.  Each week there were ups and downs that come along with serious training.  I wasn't completely sure how the meet was going to go, but I gave all I could.  During the training sessions, Michael probably thought he was the one that was doing all the "learning."  Little did he know I was getting the biggest coaching lessons of all.
12 Coaching Lessons From Martin Rooney
Lesson 1:
 

A coach should use his experience to make someone else's better.

When I was asked to coach Michael, I knew I would have to invest time I didn't particularly have available to help.  But I also knew I had a lot of hours invested in lifting and how to successfully compete at meets.  How could I not use it to make him better?  To not be able to share that experience would have been to waste it.  I accepted and put together a plan for training 3-4 days a week to prepare.  Over that training period, we tried to leave no stone unturned, and after all the work in the shadows, it was time to shine under the lights.
Lesson 2:
 

A coach has to get people to do the things they could never have done without him or her.

A powerlifting meet is a long and stressful day.  To go it alone would seriously hurt the opportunity to perform at your best.  I knew my job was to not only make sure he was relaxed, but also to do the "little things" so he wouldn't have to.  I directed his warmups (the meet was over an hour behind schedule) and was there for last minute reminders on form and technique. 
Lesson 3:
 

A coach must be like a psychic.

 

He has to be better than everyone else at seeing the future.

At a meet, you have only 30 seconds to choose the weight you are going to lift.  If you miss, you cannot go back down to a lighter weight.  With only three attempts at each lift, it is a tough call because you also don't want to leave too much on the table or miss and not get the number you wanted.  Because of these facts, the coach must know his athlete and what they can do in that moment.  I called the weights for Michael and he was crushing the meet.  Until of course, adrenalin got the best of him and he decided not to listen.
Lesson 4:
 

A coach knows that losing will be the biggest teacher for winning.

After making his first two squats, Michael called for a higher weight than I suggested (I said 380, he decided on 389.)  He just barely missed at that weight and was obviously upset.  Although he didn't get the final squat, I let him know that error will teach more for next time than the lifts he successfully made.  He also admitted he learned you have to listen to your coach. 
Lesson 5:
 

A coach has to inspire people to do the things they may not believe they can do.

After successfully making good lifts on the squat and bench press, Michael had one lift remaining to do something special: the deadlift.  For this lift, I his coach knew two things:  One, this was his best lift.  Two, he needed to go for an all-time personal record to exceed his goal of 950 total pounds and get closer to his dream goal of 1000.  After he crushed his first two deadlifts, I was the one this time to call for a big weight.  This time Michael listened to his coach and waited his turn to lift.
Lesson 6:
 

A coach must be a serial optimist.

When the people under his or her charge have doubt, the coach's job is to believe.  I knew Michael had to be nervous, but as we stood in line waiting for his attempt, I kept filling his mind with positive thoughts and how I knew he was going to make the lift.  I only focused on what he needed to do to make it and did believe he was going to do it.  Then, when he walked up to the bar loaded with 429.5 pounds in front of the hundreds in the crowd, there was no hesitation.  He did just as we had trained and in powerlifting terminology, he "smoked" it!
Lesson 7:
 

A coach is there to grow people and in doing so, grows him or herself.

When he saw the judges unanimously accepted his lift, he and I both let out a powerful yell.  He had not only hit a new all-time personal best in the deadlift, but with that lift, he exceeded his goal of 950 total pounds with 970 and took 3rd place overall in his age group and 4th place in the open division besting athletes that were much younger. As he left the platform, he wasn't the only one that grew this day.  I grew as a coach and a person too.
Lesson 8: To a coach the real trophy is someone else's.
Michael stepped up and hit that 429.5 deadlift.   When he got the third place medal (only top three got medals), I was so proud to see it around his neck.   But I was more proud he did his best when it meant the most.  That medal reminded me I am not a good coach because I once pulled a lot in the deadlift. I was a good coach in this day because I pulled greatness out of someone else.  And as he wore that medal with pride, his result was my result that day too.
Lesson 9:
 

A coach's goal is to be regarded by his or her people as someone who cares.

After the meet, Michael stood there with tears in his eyes.  He kept thanking me saying how my time was too important to "waste" on him as if I had nothing to gain from the experience.  I hope when he reads this that he will finally understand that little did he know I was a winner too.  Why?  Because I got the most important lesson and a reminder I needed:  I just love coaching.
Lesson 10:
 

A coach has to love to coach.

Whether you believe it or not, if you are a parent, husband or wife, business owner, teammate or friend, you are also a coach.

What do you love?

Are you using that gift and giving it away?

Use the 10 lessons above to both see how you are doing and make someone's life a little better today.

I promise there will be no better feeling when you do.  You might even let out a yell.

Yours in Strength,

Martin