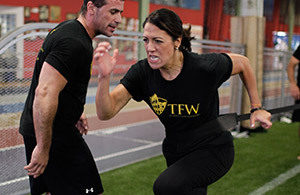 Are you a coach, trainer, therapist, athlete or fitness enthusiast looking for a system that can combine the current trends in fitness and motivation to get results?  Are you interested in being part of an online learning experience that can help you make more money and attract more clients?  If your answer is "yes," the TFW Certification course is a must for you.
Since the launch of the TFW Certification six years ago, there have been over 4,000 trainers worldwide that have become Warrior Certified TM in the TFW System.  In today's world of fitness courses,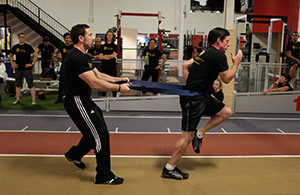 there are many choices.  Most of these courses are about the use of individual tools for training.  What separates the Training for Warriors Certification from other courses is that this course not only shows you how to put everything together into a logical system for success, but also gives you the coaching and practical steps to actually make it happen.
Become Warrior Certified: Request your invitation below by filling out your details
"Learn More About All 3 TFW Online Courses & Receive Your Special Discount Invitation"
TFW LEVEL 1 VIDEO

TRAINING FOR WARRIORS LEVEL-1 CONTENT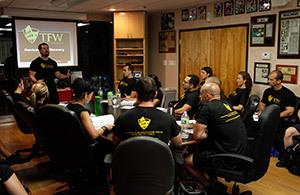 More than just an informative course, Level 1 of the TFW Certification has been called "an experience."  Although both levels of the TFW Certification were created to allow you to increase your knowledge base and apply the TFW system in a safe and effective manner, most students remark that the event also improved their lives in a number of areas. By having a comprehensive system to follow that encompasses warm-ups, strength training, speed training, nutrition, flexibility and program design, you will be better able to produce results with your own training as well with your clients.  With the inspiration provided by the course, however, you will also be able to take on other challenging areas of your life more successfully as well.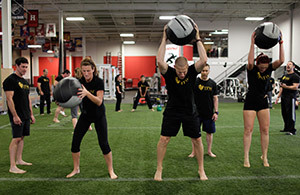 The certification will occur online. Martin Rooney, the founder of Training For Warriors, leads the online certification course the entire time.  Martin will share the secrets that have helped him to create a business, brand, and a living while still enjoying life.  The course material will include both lecture and requires you to also do hands-on training on your own during the time you spend on the course.  Each attendee receives a TFW Instructor Manual in the course resource center in order to take detailed notes on the course.  After passing the exam and successfully completing the course, the attendees also receive a Warrior Certified™ Certificate.
LEVEL 1 OUTLINE:
The online course consists of 12 different individual training modules.  This content is over 16 hours of lecture and training as well as 4 more additional hours of webinar review to prepare for the exam.  These 12 modules covers the introduction to the Training for Warriors System, the 10 Rules of the TFW Approach, Advanced Evaluation techniques including the TFW Mobility Screen and Performance Tests, the TFW Warm-Up and the Warrior Challenges, the signature Hurricane Methods including Bar Complexes, Medicine Ball Training and Tabatas, the "Warrior 20" Nutrition Philosophy, Coaching Strategies behind the TFW system and Program Periodization and Design.
COURSE REQUIREMENTS:
The TFW Certification is attained by passing the brief examination given at the end of both the Level 1 and Level 2 courses. Although the test is optional, you will be required to pass in order to move on to Level 2 of the Certification.  Once you have passed both levels, you will earn the rights and privileges of being Warrior Certified TM.
While we recognize it is important to go through the physical portion of the course on your own, the information delivered is still considered the most important piece.  If you are worried about your own physical ability or past injuries that might limit your performance, know that you are not evaluated on your physical ability, but more on your ability to absorb the information and coach.
The Training for Warriors Online Certification is recommended for personal trainers, strength and conditioning coaches, athletes, martial artists, physical therapists, and any fitness minded individual interested in improving his or her knowledge base and skills toward performance enhancement.  If you are looking to take your training and coaching games to the next level, or just need an educational experience to help you bring out your own inner warrior, then the TFW Certification is for you.
Fill out your details below to get an official invite and 15 videos explaining the course and TFW educational platform.
Day #1 – 3 Videos: TFW Online Certification, Coaching Greatness & The TFW Dojo: What Are They?
Day #2 – Your Invitation: 3 Options For Registration With Special Discounted Pricing
Day #3 – 7 Free Videos From The Level 1 & Level 2 Certification Courses
Day #4 – Coaching Greatness: 3-Part Video Series
Day #5 – 6 Free Videos From The TFW Dojo: Your Daily Dose of Motivation & Training Knowledge!
Start The 5 Day Video Course Now