MARTIN ROONEY  TFW HEAD COACH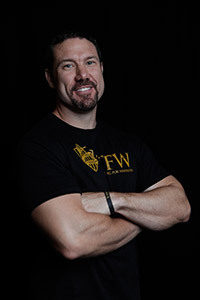 Martin Rooney is the founder of Training For Warriors.  An internationally recognized trainer, speaker, author and pioneer of strength and conditioning, Martin holds a Master of Health Science and Bachelor of Physical Therapy from the Medical University of South Carolina. He also holds a Bachelor of Arts in Exercise Science from Furman University.
Martin was a four-time All Conference, and four-time MVP performer in Track and Field at Furman and a member of the United States Bobsled team. Following his exposure to MMA in the mid 1990s, Martin began training with Renzo Gracie and started training fighters shortly afterward. Since the foundation of the TFW system, Martin has traveled around the world to train, compete, and conduct seminars and help prepare world class athletes and coaches. Martin has been the martial arts consultant to the NY Giants and the NY Jets and a coach on the IFL World Team Champion New York Pitbulls. Martin is currently a purple belt in Brazilian Jiu Jitsu under UFC fighter Ricardo Almeida and a black belt in Kodokan Judo under Olympian Teimoc Johnston-Ono.
Martin has lectured about TFW for the American College of Sports Medicine, the College Strength and Conditioning Coaches Association, the National Strength and Conditioning Association, the UK Strength and Conditioning Association, the Finnish Coaches Association, American Fitness Professionals and Associates, Perform Better and has been commissioned by Nike to run speed testing camps at a number of major universities. Martin has also presented for numerous companies on leadership and teamwork including Fortune 500 companies such as Marriot International and Hasbro.
Martin and the TFW system has been featured on ESPN, ESPN2, Spike TV, Sports New York, Fox Sports Net, Fox Fight Game, the NFL Network, HDnet, NBC.com, Bodybuilding.com, tmuscle.com and in the New York Times, Men's Health, Men's Fitness, Men's Journal, Muscle and Fitness, The Sporting News, Stack Magazine, FIGHT!, Fight Sport, Fighters Only, Grappling and Sports Illustrated for Kids.
He has written eight books called "The Book of 5 Things," "Rooney's Rules", "Train to Win", "Success Patterns", "The Team Renzo Gracie Workout", "Training for Warriors", "Warrior Cardio" and "Ultimate Warrior Workouts", the latter three published by HarperCollins. Martin is also on the editorial council of Brazil's Gracie Magazine and a regular contributor to Men's Health and FIGHT!.
In addition to training many world champion martial artists, Martin has also been a consultant to the New York Giants, Carolina Panthers, Cincinnati Bengals, Arizona State University, University of Alabama, Oregon State University, Rutgers University, Montana State University as well as other athletes from the NFL, MLB, NBA, WNBA and numerous top Division I colleges across the country. He has also trained numerous Olympians including one gold, four silver medalists, and one US Olympic Trials champion.  His TFW system has also been implemented by the Army Rangers and Army Airborne Division.
As a partner with the Parisi Speed School, he has also developed one of the top NFL Combine training programs in the country producing the fastest athlete at the 2001, 2004, 2005 and 2006 NFL Combine and first place finishers at ten different positions, including five all-time records. 130 athletes Martin has trained have been drafted to the NFL including the #2 pick overall Chris Long in 2008.
Now Martin's mission is to spread the TFW System around the world to help any person to Bring Out The Warrior Within.
TOM ROBERTSON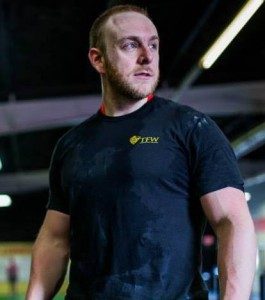 Tom Robertson trains for the joy of training. He is not an athlete, he's not training for competition and he's never competed at a high level.  He simply loves training – he's motivated by his own improvement and he strives everyday to redefine his limits.  He's a gym addict.  For this reason he was naturally drawn to the Training For Warriors System.  The system is suitable for athletes and gym addicts alike, the only prerequisites being a commitment to improve one's fitness, a willingness to confront one's weaknesses and an inner warrior eager to bust out.
He began his career in coaching and personal training with a BSc in Sport Coaching and Development.  He subsequently is certified as a personal trainer and has provided personal training services since 2003.  He specialized in strength & conditioning coaching at an early stage and have consequently had the fortune to work with professional soccer and rugby teams, as well as high school and international athletes.  In 2009 he opened a strength & conditioning gym, offering specialist personal training services through a team of five like-minded personal trainers.  As part of the development of his own business, he developed skills in online marketing and e-commerce.
In 2011 Tom became the first person from the UK to complete the TFW 1 certification, which he quickly followed up with the TFW 2 certification.  He immediately connected with the TFW mission and style.  He was truly flattered when Martin Rooney, his friend and mentor, asked him to join forces with him on his mission to help spread his message. As the Director of Digital Development his role is to do exactly that; spread the inspirational TFW message to budding and experienced warriors across the globe using digital tools and the Internet.  He currently directs the TFW Dojo, online certifications and social media.
AMANDA ROONEY AND KELLY GRAY TFW AFFILIATE MANAGEMENT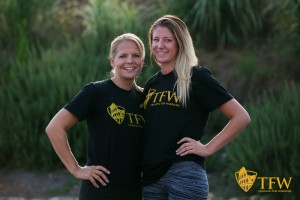 Amanda Rooney and Kelly Gray McGee manage the day to day operations of Training For Warriors.
Amanda graduated with a B.A. in Education and Communications from Monmouth University.  A former teacher, now Amanda (along with her husband Martin and 4 children) is fully engaged with Training For Warriors.
Kelly attended the University of Maine and was a multiple sport athlete in high school and college.  In addition to the day to day administrative operations, Kelly manages the TFW online store and is responsible for customer support.