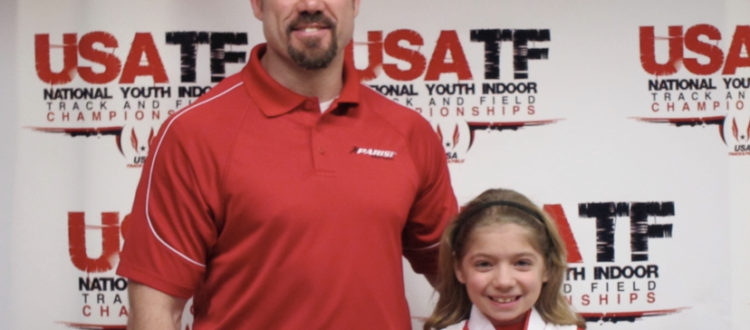 101 Ways To Raise A Champion
This blog may start off as "controversial," but I promise it ends with "practical" ideas that will make you a better coach, leader or parent.
When I was on the US Bobsled team, I had a Russian coach. When I asked him about the philosophy for raising children in the "Soviet Sports Machine," he shared this statement:
"You give us 18 years and we will give you a champion."
Because I was in my mid 20s then, I filed that idea away.  When I became a parent, I didn't just remember it, I took it to heart – I took that statement as a challenge.  With my first daughter, I wanted to put both the idea and my parenting skills to the test.
How We Raised Our Little Champion
My oldest daughter Sofia, has had a unique life.  Because she was an infant right at the time social media was in its infancy, many people who have followed me have also watched her grow up. As an example of her upbringing, here's the classic parenting video we shot when she was only 8 years old.  Although it's meant to be entertaining, there's a powerful parenting message about culture:
Like the Jim Carrey movie, The Truman Show, people have watched her progress to from learning to walk to being the track athlete she is today.  Now that she's 18 and moving on to the next big stage of her life, I've been receiving the same question over and over:
Do you have any advice to raise my child?
I can't say I've been the perfect parent.  In fact, I've been far from it. But over the last 18 years of parenting my four daughters, I've definitely learned a lot.  In fact, they've probably taught me as much as I've taught them.  And of all my teachers, Sofia may have been my greatest instructor.
Over the last few months in particular, I've posted a lot about Sofia.  From the results of her senior track season and her theater performances to her acceptance to the University of Notre Dame, you may have read about some of the interesting things she's done recently.  Because she and I spent so much time training together during the pandemic, it gave us a greater opportunity to connect.  Now that she's leaving for college in a few weeks, I've taken the opportunity to reflect too.
Let's Get Back to the Statement
Before you overthink it, I didn't use the statement as a parental license to over-push or just focus on athletics with my children.  Instead, I took that statement as a challenge in every aspect of their lives.  A challenge to see if a parent could set a goal, help properly plan and direct a child's upbringing and help them to be a champion of their dreams.
Between Sofia competing at the US National Championships last week and her champion dream college coming true, coupled with us still having a great relationship, I believe I have something of value to share from what I have learned over the last 18 years.
So back to the question, "Do you have any advice to raise my child?"
I want to be up front.  I'm not telling you how to parent.   The meat of the advice I will be delivering in the list below is not instructing you what to do.  It is just telling you what I did.  Take the ideas you like and apply them.  If you feel some don't apply to you, discard them. I believe the advice is practical, not controversial. The list is common sense and probably was not taught to many coaches in the Eastern Bloc.
When we came home from the hospital with Sofia 18 years ago, we had a car seat, we had diapers and we had baby onesies.  What we didn't have was a manual – a guide about what we were supposed to do for the next 18 years to raise a champion.
This is the list I wish I had when I brought her home that day.
I spent the last month compiling this list for you.  As an idea would come to me, I would add it on.  As you might agree, even though many of the ideas seem short, they are also profound.  When I reviewed the completed list, I realized it wasn't just for parents. Most of the list also applies to coaches, teachers, managers and leaders too.  So if you don't have kids, this is still a powerful list how to "raise up" the people around you.
The Parenting 101
GIVE THEM
1.  Give them goals.
2.  Give them a vision.
3.  Give them dreams.
4.  Give them support.
5.  Give them hugs.
6.  Give them discipline.
7.  Give them responsibility.
8.  Give them values.
9.  Give them space.
10.  Give them guidance.
11.  Give them opportunities to be creative.
12.  Give them affection.
13.  Give them your attention.
14.  Give them consistency.
15.  Give them hope.
16.  Give them love.
17.  Give them faith.
TEACH THEM
18.  Teach them about nutrition.
19.  Teach them about finance.
20.  Teach them about exercise.
21.  Teach them about sleep.
22.  Teach them about relationships.
23.  Teach them about personal hygiene.
24.  Teach them to defend themselves.
25.  Teach them to get excited when things get difficult.
26.  Teach them their family history.
27.  Teach them manners.
28.  Teach them compassion.
29.  Teach them to respect others.
30.  Teach them to appreciate others.
31.  Teach them about service.
32.  Teach them patience.
KNOW THEIR
33.  Know their teachers.
34.  Know their coaches.
35.  Know their friends.
36.  Know their medical history.
37.  Know their schedule.
38.  Know their dreams.
39.  Know their talents.
40.  Know their strengths.
41.  Know their weaknesses.
42.  Know their favorite things.
SAY
43.  Say "Good morning and goodnight"
44.  Say "I am proud of you."
45.  Say "It's my fault."
46.  Say "You can do it."
47.  Say "I believe in you."
48.  Say, "Thank you."
49.  Say "I love you."
ASK
50.  Ask  "How are you feeling?"
51.  Ask "What's wrong?
52.  Ask "Are you ok?"
53.  Ask "Does that make sense?"
54.  Ask "Can you tell me more about that?"
DON'T
55.  Don't let communication stop.
56.  Don't argue in front of them.
57.  Don't stress them out.
58.  Don't make things too serious.
59.  Don't expect them to be perfect.
60.  Don't set the bar too low.
61.  Don't lie to them.
62.  Don't spoil them.
63.  Don't compare them to others.
64.  Don't ignore things that seem like problems.
65.  Don't make their issues seem insignificant.
66.  Don't embarrass them.
67.  Don't discourage them.
68.  Don't let them worry alone.
69.  Don't use food to comfort or congratulate.
LET THEM
70.  Let them make decisions.
71.  Let them make mistakes.
72.  Let them talk during the conversation.
73.  Let them do their own homework.
74.  Let them offer their opinion.
75.  Let them experience new people, places or things.
76.  Let them know they are never alone.
77.  Let them be them.
RECOGNIZE
78.  Recognize their emotions.
79.  Recognize their problems.
80.  Recognize their passions.
81.  Recognize their achievements.
82.  Recognize their individuality.
MAKE
83.  Make your praise appropriate.
84.  Make family traditions.
85.  Make great memories.
86.  Make an impact.
87.  Make them think in the long-term.
MISCELLANEOUS
88.  Lead by example.
89.  Take care of yourself too.
90.  Do the things you ask them to do.
91.  Read with them.
92.  Learn from them.
93.  Monitor their use of technology.
94.  Love your spouse.
95.  Value hard work over results.
96. Keep everything in perspective.
97.  Have fun.
98.  Listen.
99.  Forgive your past parenting mistakes.
100.  Never give up on them.
101.  Never be afraid to ask for help.
On this list of 101 things, I'd love to hear which ones are your favorites.  And if you have any more to add to the list, please write me and let me know them too.  With three daughters left under 18, I still have more to learn.
The 101 points on the list are the base for the culture of my family.   And that culture has an effect on their beliefs and behaviors.  Whether you are a parent, manager, business owner or teammate, your culture is the foundation on which your people either will or won't become successful.
If you haven't either envisioned or designed the culture of your business, team or family, it's a perfect time to start.  And reading my new book, High Ten: An Inspiring Story About Building Great Team Culture will give you the roadmap how to do it.  The book has released and is hitting homes now.  Order today and depending on where you live, you could be reading it tomorrow!
If nothing else, I don't hope you just like the list, but that you begin putting some of the items you were missing into action.  After all, someone you lead is counting on you.
Throwing you a High Ten!
Martin