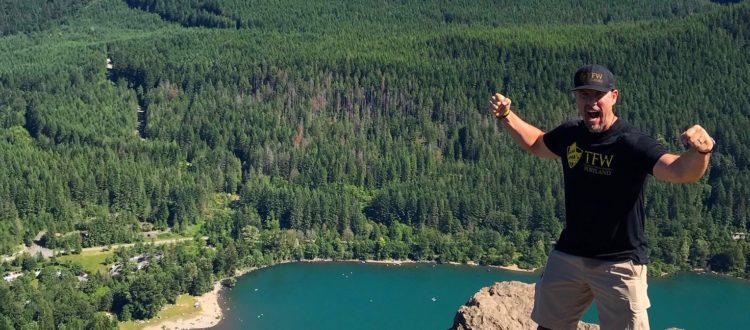 3 Ways To Overcome Your Fears And Doubts
There will be days you hear voices of doubt.
 

You must learn not to listen.
There will be instances you find reasons to quit.
 

You must discover proof of success.
There will be moments you experience pains of helplessness.
 

You must focus on things you can control.

This weekend I was in Seattle for my live event, Coaching Greatness. At the course, I covered a number of topics from goal setting to developing your personal vision and mission. Every event I perform is slightly different.  As I change, so does the direction of the course.  An underlying theme of this event was goals, desire and a vision will not be enough to reach your dreams; you also have to do the work.

The day after rocking the show for over 60 people from a half dozen states and countries, I had a rare 24 hour span of "rest."  If you know me, I don't relax by lying around; I rest and recover by clearing my head.  A great way for me to rejuvenate is to get outside and put myself out of my comfort zone.

Seattle is one of my favorite cities. After over a dozen trips there, I have walked the Pike's Place Market. I have ascended the Space Needle. I've had a latte at the first-ever Starbucks and cheered the home team at a Mariners pro baseball game. I've marveled at the art of glass-master Chihuly and had the "catch of the day."  I've ridden ferries to remote islands and sandy beaches. And on every trip, whether it was sunny or rainy, I've had a smile on my face.

With this rare block of free time, I was ready for something new.

My choice? Instead of sleeping in, I got up early to hike a trail called Rattlesnake Ledge.  The trail is about 30 miles northeast of Seattle called North Bend. To get up to Rattlesnake Ledge, all I knew was there was a two mile vertical hike that took some  work to reach the summit. Because my knee is still healing and I had never climbed this mountain before, there were some unknowns. And with unknowns, there are always doubts.

Without any knowledge about the difficulty of the climb or the view from the top, I headed up the mountain as a blank slate.  Because I hadn't done my research, each step was an invigorating adventure.  But trekking into the unknown will eventually have you questioning yourself.  At about 30 minutes into the climb, the doubts started. Would I make it up? Would my knee be ok? Would I be able to get back down? Was I making a mistake? Why was I doing this?

As the doubts (and my heart rate) continued to increase, thoughts of giving up crept in.  That was when I employed 3 success skills I have learned over the years to keep moving toward the top.
3 Ways To Complete Your Next Challenge
1.
 

Don't Listen. Do The Talking.

Instead of passively listening to my fears and doubts, I initiated a positive dialog with myself.  As the challenge got tougher, I didn't get quiet.  My active talking got louder.

I said to myself, "Let's go. You've done things much tougher than this before." I told myself the climb would be worth it.  I reminded myself I would be proud to stand at the summit and it would all be over soon.  But even with those positive messages, I still needed more.
2. Don't Seek Excuses Why You Can't.
 

Find Proof How You Can.

Instead of looking for excuses to stop, I began searching for proof I would be able to keep going.

Along the hike, I saw a lot of people stopping. This act could have been contagious, but I focused on the people coming down who had made it to the summit. I reminded myself if they could do it, I knew I could too.  This proof, along with the positive self-talk was powerful, but as I got closer to the top, my doubts actually intensified.  Funny how the closer you are to the completion of a task, the further away the end may seem.  I needed one more trick to get me there.
3.
 

Don't Focus On What You Can't Control.

 

Zone In On What You Can.

Instead of focusing on the things that I could not control, I focused on the things I could control.

That focus was in the form of action. I used a little exercise I have learned to calm myself at times of duress: keep breathing.  As I got closer to the top, I focused on my breathing and simply putting one foot in front of the other.  I couldn't change the distance, height or the grade of the climb.  But I could change my response to them.

Instead of stopping, the combined 3 steps of positive self-talk, discovery of positive proof, and focusing on the present kept me moving forward. Then step after step, I eventually found myself at the peak.  When we got to the ledge at the top of Rattlesnake, that view was one of the most inspiring I have seen. As I stood on the edge, staring out above the lake below into a forest of green, time stopped. I had the rush of passing both a physical and mental test. As a result, I knew I would be both hungry and ready for the next one.
What mountain are you trying to climb right now?
Have you quit on any challenges lately?
Are some fears or doubts holding you back?
I am hoping you are able to use the three steps above to climb your next mountain. Why? The world needs you to complete more tasks. Your community is counting on your best. Your family needs you to be stronger than you were before.  You need to climb that mountain to prove your strength to yourself.
When I descended back down to the start of the trailhead, I noticed there were many more people at the bottom who never made an attempt for the top. The final lesson: on the other side of hard work is a place few are willing to visit.  Use the three skills I have shared here and you will be one of the proud few to achieve what most others don't.
You have some mountain to climb.  There will be doubts.  Don't listen to them. There will be difficulties. Find the positive proof.  There will be pain.  Focus on what you can control right now.
Get climbing,
Martin