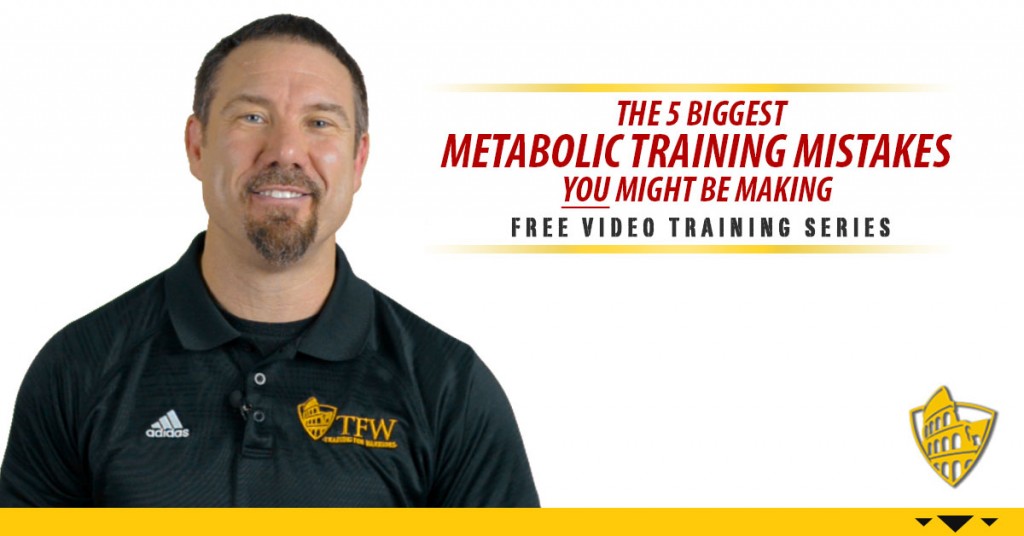 Welcome back to the final video of my free Metabolic Training Video Series. If you missed the first 2 videos you can watch them here:
==> Metabolic Mistakes: Video 1
==> Metabolic Mistakes: Video 2
In this final video I will be covering the last two big mistakes that you might be making with your metabolic training:
==> TFW Online Certification: Full Course Info & Registration Details
If you enjoyed the metabolic content in this video series then you are going to love the Training For Warriors Certification. The TFW Level 1 course covers detailed information on warm-ups, evaluations, metabolic training programming, the TFW Warrior Challenges and deeper into our philosophy on coaching.
"At Training For Warriors we wont just teach you how to TRAIN people, we will teach you how to CHANGE people." ~ Martin Rooney
Here's what is included as part of the course…
* Over 15 hours of training and education videos.
* For the personal training / strength coaching environment
* For athletes & fitness enthusiasts looking to improve their own training
* 12 training modules released over the 4-week period of the course
* 4 live training calls with Martin Rooney
* 8 weeks total access to digest the information and complete the course
* Downloadable course manual and PDF guides
* Fully online experience including the certification exam
* The 10 Practical Rules of the TFW Approach
* Methods of the signature "Hurricane" training
* The 6 stages of the TFW Training Continuum
* and a lot more!
Students now also have the opportunity to register for both the Level 1 & Level 2 Certifications together to make a saving of $200, details here:
==> $200 Saving: Level 1 + Level 2 Registration